Agricast has this month launched its new range of Tungsten Carbide parts.
Designed to replace old wearing steel parts, the new range comprises plough points, cultivation points and weld on tiles in many different shapes and sizes.
The Tungsten Carbide tipped parts, which are made to strict quality standards in the European Union, will last between four and ten times longer than their steel counterparts.
At launch, Agricast's range of Tungsten Carbide parts are available for Gregoire Besson, Dowdeswell, Kuhn, Kverneland, Lemken, Ransomes and Rabe ploughs and Horsch, Kockerling, Simba / Great Plains and Vaderstad, cultivators.  The direct replacement OEM parts are complemented by a wide range of weld on Tungsten Carbide tiles, edge strips and points.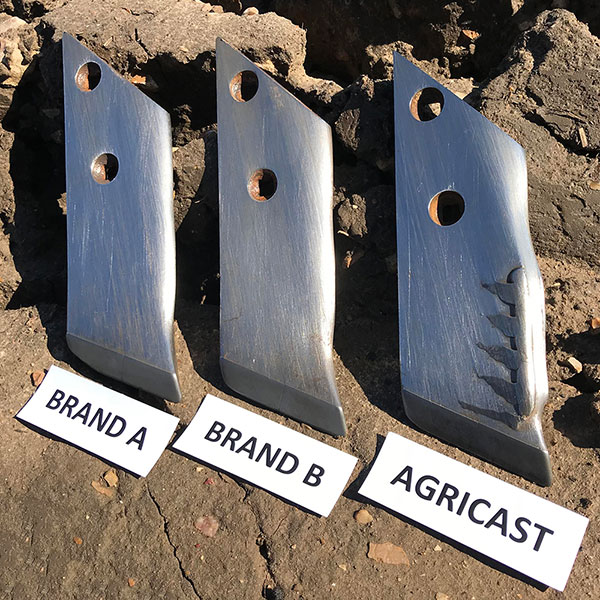 "We spent a lot of time last year testing our Tungsten Carbide plough parts to see how they performed on our farm against the competition," says William Robinson, Agricast's general manager. "With this experience, we are confident that Agricast's new Tungsten Carbide reinforced products offer the best possible wear resistance with superior CNC hard facings, which will provide our customers with a long-lasting, high quality and affordable range of replacement parts. Our launch range covers most leading original manufacturers and all we need is a part number to supply the long-lasting replacement item."
As well as excellent quality, competitive pricing and quick delivery, Agricast's Tungsten Carbide parts also offer agronomical benefits. As the new range will maintain their sharp cutting edges for far longer than steel parts, the risk of smearing and soil compression, which affects water and air movement, is reduced.
Based on the family's Lincolnshire farm, Agricast is the UK's leading Cambridge roll ring specialist and also supplies a wide range of press rings, disc blades and subsoiler wear parts. Agricast also offers bespoke alterations and fabrication services.
For more information or to place an order call 01673 857 619.
View all News